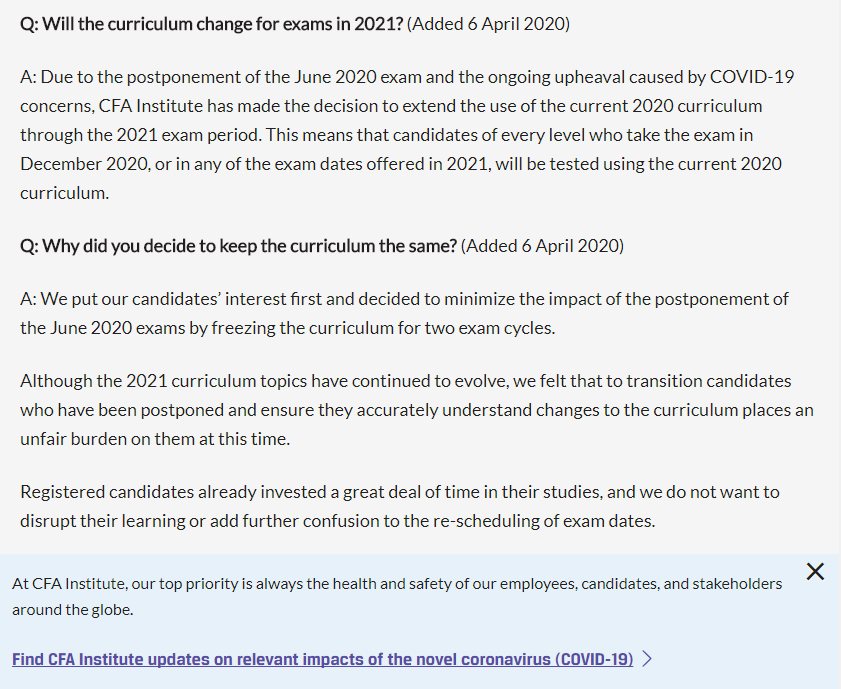 1:我报名了6月份的考试。我可以退还晚注册费和早注册费之间的差额吗?(新增2020年3月27日)

1:CFA协会会为注册报名6月份的候选人提供推迟的考试机会。将重新安排所有候选人的时间,因此不提供退款。

2:我是II级候选人,没有报名参加2020年6月的考试。现在推迟十二月份,是否允许20年份新的LII / LIII注册? (新增2020年3月27日)

2:不可以,由于LII和LIII候选人的考试中心能力有限,只有那些已经报名了2020年6月考试并开始推迟的人才可以在12月参加考试。我们将不接受2020年12月的LII和LIII新注册。

3:2021考试的课程会改变吗?(2020年4月6日增加)

3:由于2020年6月考试延考和新冠疫情引起的剧变。CFA协会决定延长使用2020年考纲至2021年。这意味着任何2020年12月考生或者2021年的考生都会参加以2020年考纲为准的考试。

4:你为什么决定保持课程不变?(2020年4月6日增加)

4:我们把考生利益放在第一位并决定通过保持2个考试周期的考纲不变来最小化延考的影响。

尽管2021年的考纲主题在不断进化,我们认为对那些延考的考生来说,此时此刻要求他们精准的理解考纲变化会是一件不公平的负担。

已经报名的考生已经投入了巨大的时间在学习当中,我们也不想打断他们的学习或者对重新排期的考试增加新的疑惑。

5:新考纲什么时候发布?(2020年4月6日增加)

5:2022年考试知识体系和2022年考纲会在2022年考试报名开放时发布。一级的考纲和知识体系会在2021年5月2022年第一次考试报名窗口开放时发布,二三级考纲会在2022年6月考试报名窗口开放时发布。

6:与考纲相关的Refresher Reading(补习课程)会保持一样吗?(2020年4月6日增加)

6:目前考纲还在不断更新确保其保持相关性。我们决定不发布2021年考纲来帮助被新冠疫情影响的2020年考生。但是,我们会通过传统的Refresher Reading(补习课程)提供2021年考纲的内容。

7:如果没有2021年的版本,考生将如何从2020年的课程过渡到2022年的课程?(2020年4月6日增加)

7:我们会帮助2022年考生缩小2020考纲和2022年考纲的差距。

8:Learing Ecosystem会有任何改变吗?(2020年4月6日增加)

8:测试模块不会有任何改变。可是在这个过渡时期,CFA协会会继续更新学习体验,增加更多功能来帮助考生高效学习。我们也会及时将2020年三级考纲加入到Learing Ecosystem当中,来给到2021年三级考试的考生。2020年三级的考生依然只能继续使用电子书。

9:我们将通过各种渠道与所有人进行交流,包括电子邮件,社交媒体,我们的网站以及候选人资源平台。我们鼓励您登录到CFA考试报名帐户,以验证您的电子邮件地址,并在LinkedIn,Facebook,Instagram,Twitter,微信和微博上关注我们的CFA项目信息。如果有详细信息,我们还将直接与所有认可的备考提供者和全球各地的CFA分会进行沟通。
原文及CFA协会公告网址如下
https://www.cfainstitute.org/en/about/press-room/cfa-institute-coronavirus
Q1: I paid the late registration fee for June. Can I receive a refund of the difference between the late registration fee and early registration fee? (Added 27 March 2020)
A: CFA Institute is providing registered candidates a deferral to a future exam date. Because all candidates will be rescheduled, refunds are not being offered.
Q2: I'm a Level II candidate and did not register for the June 2020 exam. Will you allow new LII/LIII registrations for December now that its postponed? (Added 27 March 2020)
A: No, due to test center capacity constraints for LII and LIII candidates, only those who were postponed from June 2020 will be allowed to take the exam in December. We will accept no new registrations for LII and LIII December 2020.
Q3: Will the curriculum change for exams in 2021? (Added 6 April 2020)
A: Due to the postponement of the June 2020 exam and the ongoing upheaval caused by COVID-19 concerns, CFA Institute has made the decision to extend the use of the current 2020 curriculum through the 2021 exam period. This means that candidates of every level who take the exam in December 2020, or in any of the exam dates offered in 2021, will be tested using the current 2020 curriculum.
Q4: Why did you decide to keep the curriculum the same? (Added 6 April 2020)
A: We put our candidates' interest first and decided to minimize the impact of the postponement of the June 2020 exams by freezing the curriculum for two exam cycles.

Although the 2021 curriculum topics have continued to evolve, we felt that to transition candidates who have been postponed and ensure they accurately understand changes to the curriculum places an unfair burden on them at this time.

Registered candidates already invested a great deal of time in their studies, and we do not want to disrupt their learning or add further confusion to the re-scheduling of exam dates.
Q5: When will a new version of the curriculum be released? (Added 6 April 2020)
A: The 2022 Candidate Body of Knowledge (CBOK) and 2022 curriculum will be released when we open registration for the 2022 exam. For Level I, the curriculum and CBOK should be released in May 2021 when the first 2022 exam window is expected to open. The Level II and III curricula will be released when we open registration for the June 2022 exams.
Q6: Will the curriculum-related Refresher Readings for members remain the same? (Added 6 April 2020)
A: The curriculum continues to evolve to ensure it remains relevant. We decided not to release the 2021 curriculum to help 2020 candidates affected by COVID-19. However, we will provide 2021 curriculum readings to our members in the traditional form of Refresher Readings.
Q7: How will candidates be able to make the transition from the 2020 curriculum to the 2022 curriculum if there is never a 2021 version?(Added 6 April 2020)
A: We will help bridge the gap between the readings from the 2020 curriculum to those intended for 2022.
Q8: Will there be any changes on the Learning Ecosystem? (Added 6 April 2020)
A: Testable content will not change. However, during this interim period, CFA Institute will continue to evolve the learning experience, adding functionality to help candidates study more effectively. We will also be adding the 2020 Level III curriculum into the Learning Ecosystem in time for the opening of registration for the June 2021 Level III exam. Level III candidates registered for June 2020 will continue to have access to the VitalSource e-book only.
Q9: How can I make sure I don't miss a communication?
A: We will communicate with everyone through a variety of channels including email, social media, our website, and candidate resources portal. We encourage you to verify your email address on record by logging in to your CFA Candidate account and to follow our CFA Program social channels on LinkedIn, Facebook, Instagram, Twitter, WeChat and Weibo. We will also communicate directly with all Approved Prep Providers and local CFA Societies around the globe as details are available.